Audio
Audio (Instrumental)
Lyrics
Sleep little child
Lay down your head
Angels watch round your bed
May God comfort you all through the night
Fill your dreams with his beauty and light
Sleep in heavenly peace
Sleep in heavenly peace
Lyrics: Mike Burn
© 2020 Rising Generation Music
Music: Franz Xaver Gruber – Public Domain
Lyric Video
Story behind the song
"Silent Night" is such a classic Christmas carol, with a great story behind it. I love to play it at Christmas, especially on acoustic guitar, and it seemed a natural choice for adapted lyrics to sing to a child. I'd originally drafted the lyrics around 20 years ago, but never recorded or released it. I made one change as we were recording – the 4th line was originally "May God bless you all through the night", but it seemed better to have a two-syllable word to made it sound more natural, so I changed bless to comfort. I had also realised as all the songs came together that we had several (naturally, given the subject matter and use of lots of Bible verses) that had the word "bless" in already.
There is always something of a risk in taking such a well known tune and adapting lyrics, so who knows whether it will "catch on" in any way, but for me, the privilege of having such a lovely arrangement, and wonderful vocals from David and Sarah, make it a risk worth taking.
Instrumental Track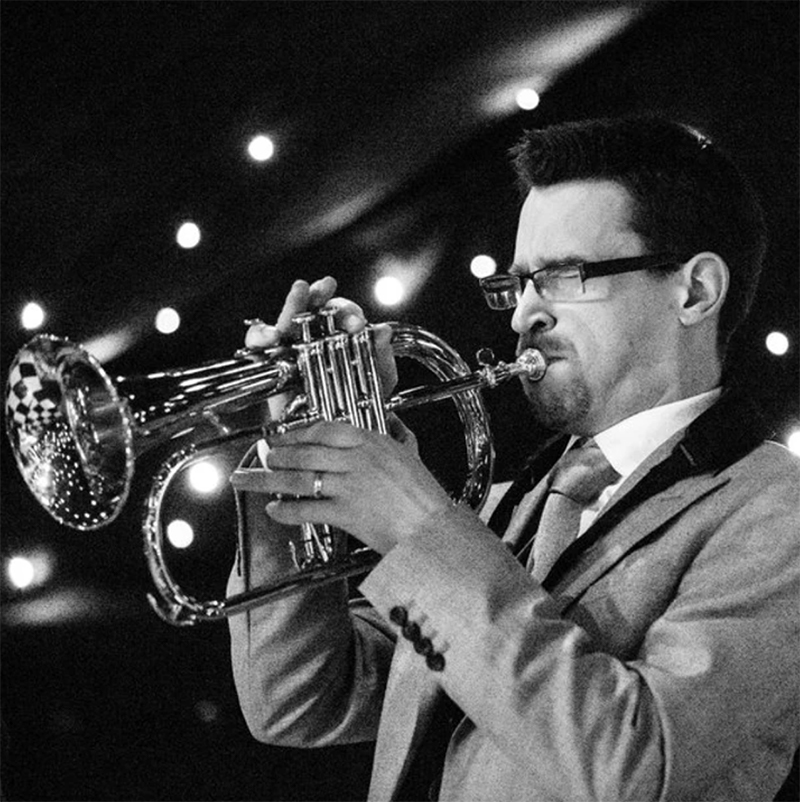 The soloist on this track is Tim Boniface on Flugelhorn, and I'm thrilled to have his playing featured in a few tracks on the album. He was in the middle of moving house in the summer when Ben and I got in touch to see if he could record a session for us, and he kindly made the time, and put his usual care and skill into the recording. Tim has his own Christmas album, "The Infant: A Jazz Suite for Christmas" which I encourage you to check out at his website.
I love Ben's arrangement and mix, with the solo blending beautifully with the acoustic guitar and other instrumentation. With the addition of brass the track of course immediately becomes something of a classic rendition of Silent Night, evoking for me memories of Salvation Army bands in the High Street, as well as the many times in London back in the day when we would put a band on the back of a brightly decorated lorry (truck for my American friends) and play carols round the neighbourhood.
Instrumental Video